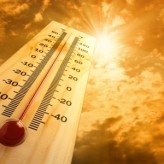 Pugs and Hot Weather Don't Mix
Do you realize how much the Pug Breed is sensitive to heat and humidity? It is very important that you are in-tune to the outdoor temperatures as summer is approaching. Temperatures above 80-85 degrees can be hazardous to your Pugs health. Temperatures in that range and above have been known to cause heat stroke which is potentially deadly to a Pug.
In addition it's also possible that over- exposure to high temperatures can cause long term damage to your Pugs organs including the heart, kidney and liver. It's not at all uncommon for Pug owners to find their Pugs enjoy laying outside, even on hot surfaces, but please remember that your Pug really doesn't know any better and it's up to you to be the responsible Pug Owner.
Be alert to the temperature outside. If you live in high humidity areas or hot areas like Arizona – well, the warm weather for Pugs has already begun! Be sure that your Pug doesn't stay outside for more than 10-15 minutes at a time.  Remember — Pugs and hot weather do not mix!
Heatstroke comes on quickly, in a matter of seconds, and it could cost your Pug his life. Don't be tempted to leave your Pug outside just because everything seems fine at the moment.
Be safe this summer and keep your Pug indoors. Don't forget to exercise!
Image credit: vladischern / 123RF Stock Photo
Read More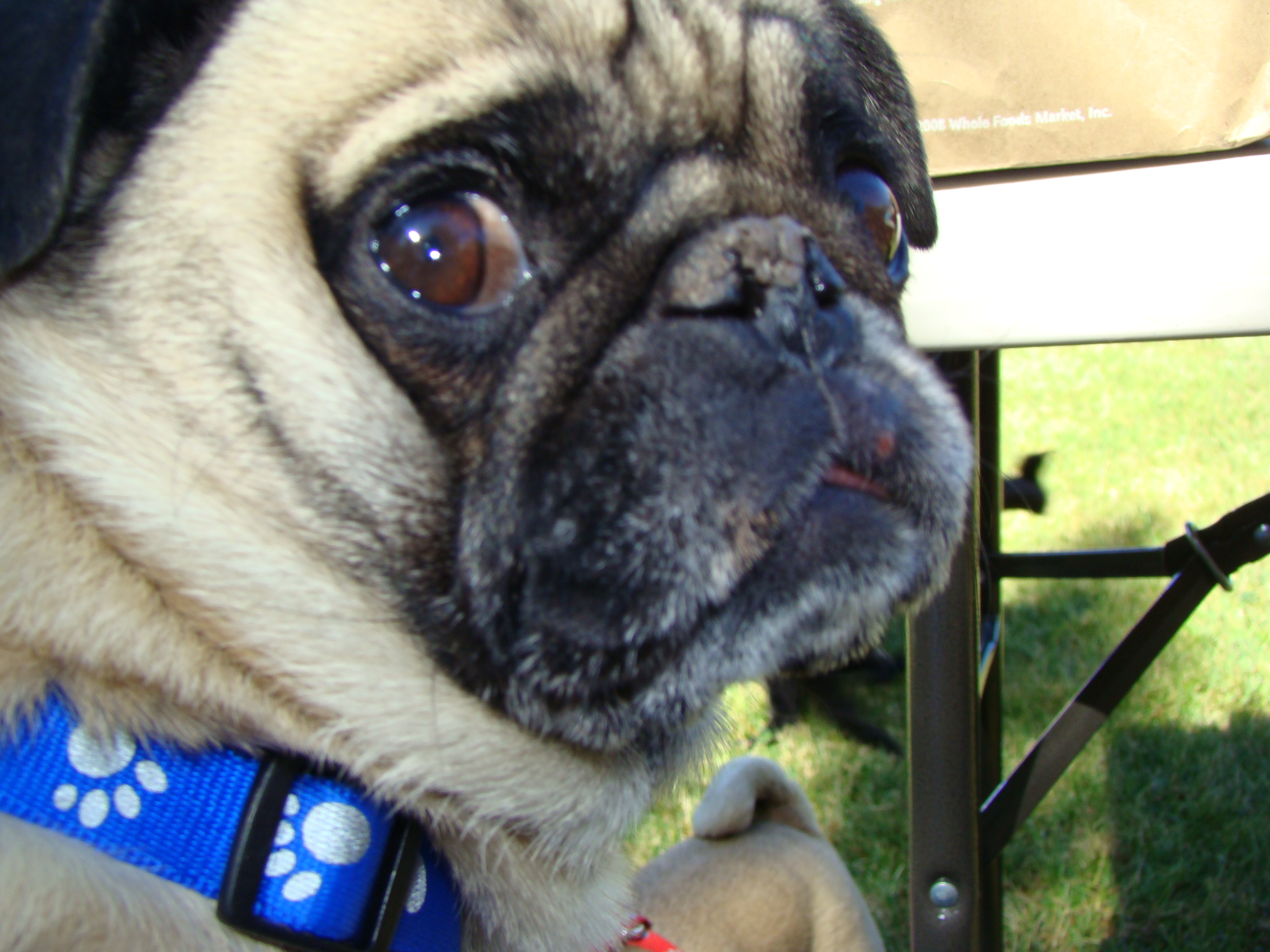 It's been awhile. I apologize to all of my faithful pug lovers out there who were worried that something had gone wrong with me. I'm fine. I'm healthy. Pugs Rule!
BUT….what about my sister Poppie?
Pugs and Laser Lights – It Can Ruin Your Dog!
She is driving us all nuts. She whines and barks like crazy whenever there is a reflection from anything on our ceiling. Like when mom takes a fork out of the silverware drawer. Poppie goes crazy and then spins around and then runs and bites little Phoebe's ears. Years ago she was teased a bit with a laser light. Of course she loved it but I think it set something off in that little brain of hers. It's crazy pug behavior. Wish she'd knock it off!
Update:  Poppie is now almost 10 years old and still looks for light on the ceiling.  She continues to bark at nothing but light reflecting through the window.  I would never, ever again allow a laser light near my pooches!
Read More
Wow….a hot, hot summer. BUT….tonight I am sitting on the patio with my peeps and enjoying great temperatures. I LOVE to be outside. I'm also especially excited because the Mesa Pug Meetup starts again next Saturday. Yipppeee! I don't especially like to socialize but I love to observe and there are some really crazy pugs at the Meetup. I hope everyone is as excited as me cuz it would be embarrassing if my pug butt was the only one wiggeling! LOL Oh, did I mention, my Pops is feeding my Cheetos cuz I love them so much!
Read More
Look at this!  This is a picture of Poppie swimming from underneath the water.  My friend Sandy took this photo with an underwater camera.  Sure looks cool.
Love, Poco
Read More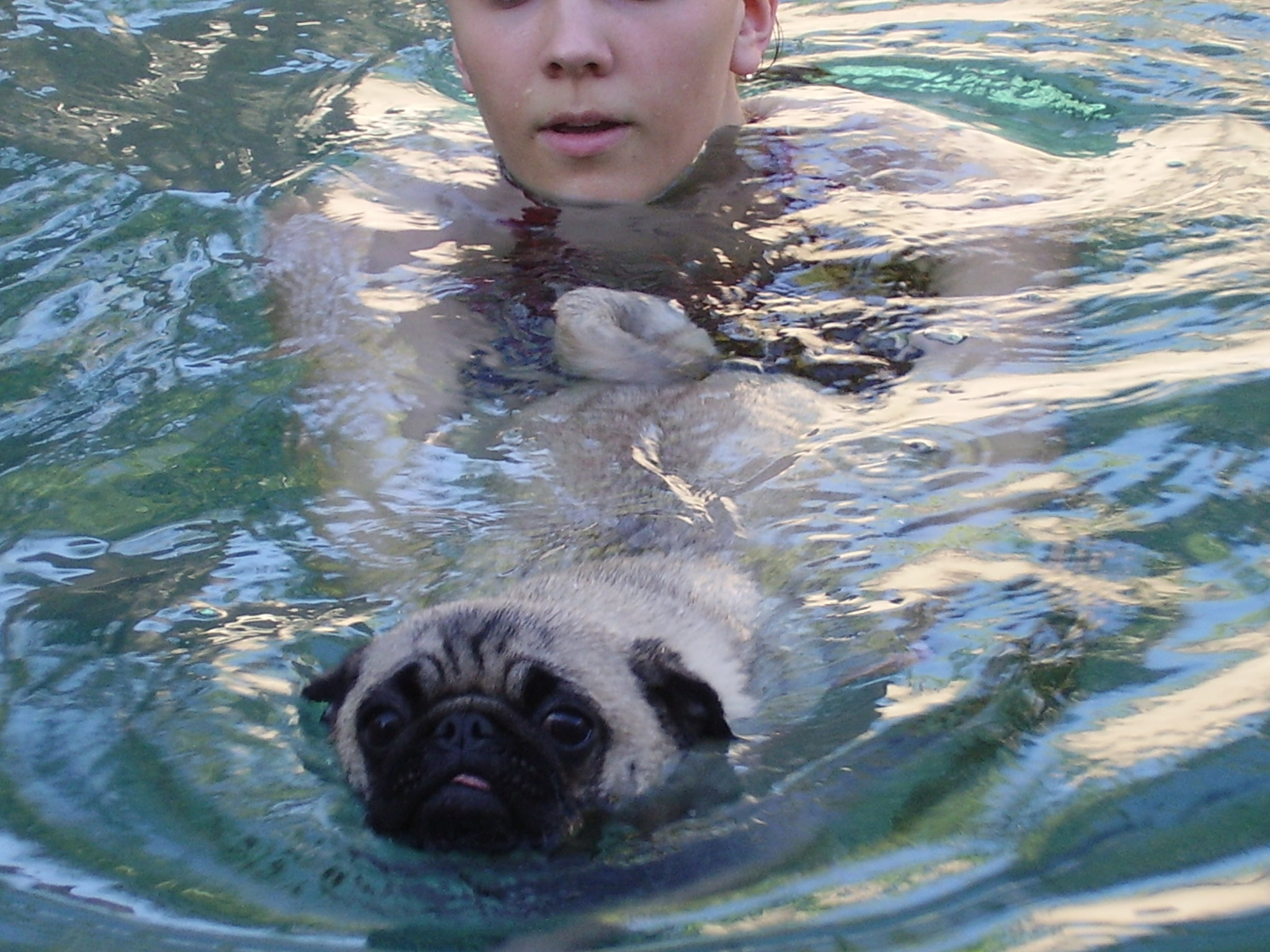 Ask Again — Can Pugs Really Swim??
This should put to rest the gossip I hear day after day.  PUGS CAN SWIM!   The real question is "Do Pugs like to swim?" Apparently so.  At least some do.
Take for example.  My sister Poppie is an avid swimmer and loves the pool.  My other sister Phoebe and I, on the other hand, "love to hate" the pool.
This was Poppie's very first swim and since that day she just jumps right in, does a quick Puggie lap and then swims back to the step to shake off her wet pug fur.  What a ham!
YES — pugs really swim!
LOVE — POCO
Read More