Many good thoughts go out tonight for the victims of the tornados that have ripped across Oklahoma.  I am doing a small part by providing the rescue information for pugs in Oklahoma.  Even if it isn't a pug…this rescue will know what to do!
 405-706-1492
I hope everything works out okay…I am very sad tonight…
Related articles
Read More
My brother Max the pug lives in Minnesota. He has a terrible time walking. His Mom thinks he was accidentally hurt during grooming (like a fall from the table). After hearing the whole story, I think she's right. Anyway, Max had a period of time where he had to drag himself from one place to the next because his back legs just wouldn't work. The vet said they could try specialized surgery to repair the spine but that it might worsen the problem or even come back. Max's Mom looked into it but the cost was more than she could afford. Then someone told her about trying acupuncture. Off they went to a special place where Max bravely accepted the help. He is now able to walk (though a bit wobbly) and is a much happier pug. Here's a picture of him today!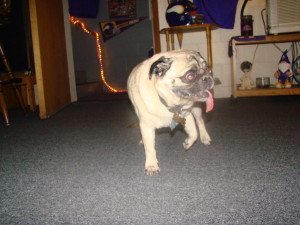 So, consider acupuncture. It helped my brother Max so much that I'm going to find the specialist and ask them to guest blog here.
Love, Poco
Read More