Meet the Puggers!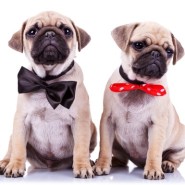 Meet the Puggers or Meet the Parents?
Most of us are familiar with the movies Meet the Parents and it's sequel Meet the Fockers.  Well, when you are ready to select that new pug puppy it's sometimes wise to "Meet the Parents."  Those little pugger faces can be hard to resist.
While I am an advocate of helping the many pugs out there residing in foster homes and pug rescue organizations, I know that for some people getting that new pug puppy from a breeder and choosing it from the many wiggly, smooshed faced cuties, is a really fun experience.  Or at the very least, it should be.
Following are some tips that I find important to think about when selecting your new pug.
1.  Select only a reputable breeder and interview them.  Get references.  Ask a vet if they know reputable pug breeders.  Attend a pug meetup and ask the members where they found their pugs.  Contact the American Kennel Club for a listing of approved breeders.  Most reputable breeders don't advertise in newspapers because they don't have to!   Ask the breeder about previous health issues in their litters.  Ask about a health guarantee.  Ask about and review sales contracts.
2.  Closely observe each of the puppies in the litter.  Take your time!  Determine their personalities with their litter mates, their mama pug, and then observe how they respond to being alone with you and your family.  Pug puppies are usually very playful and do well with people of all ages including small kids.  This is a great time to see how a puppy responds to them and how they will do with the new pug puppy.  Does the puppy like to be held?  Is the puppy shy?  Dominant?   Fearful?  Playful?  Happy?  How does it respond when you offer it toys?  Observe.  Observe.
3.  Check out the puppies with a magnifying glass.  Well not literally, but be on the lookout for these things.
A clean, shiny and smooth coat.  Remember that some pug puppies do have more than one coat and so the fur might be a little coarse but that's normally okay.
The eyes should be big, bright and clear with no coating over the lens.  Have them follow your hand by snapping your fingers.  Do their eyes follow?  There shouldn't be any red or pink areas.
The pug's legs should be short and the body should be stout.  A curly tail worn on the back like a ribbon on a present is always a nice sign.
Examine the nose to see how big the nostrils are.  Pugs rely on those nostrils to get air.  I, myself had to have my pug put through surgery to correct this issue because I wasn't informed.  Surgery can correct the issue.  Check with your vet.
Soon you'll be loving your new pug puppy and experiencing the way they wiggle their way into your heart.
Image credit: feedough / 123RF Stock Photo