My Pug Forgot He Was Potty Trained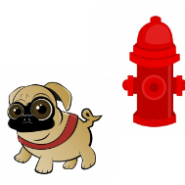 I just received an email from a new pug mom who is about to give up on her boy puppy because he forgets he is potty trained (he is 7 months old).
Here are some excerpts:
"…I have had him since 2 months and started potty training immediately.  He did very well!"
"….he just starts circling and goes.  Of course, I take him out if he starts circling but if I do not catch it, he just goes.  He does not even try to hold it in.  This little guy will be the death of me!!!  Just tell me that this gets better!"
"…while playing with him he all of a sudden he starts biting"
"…He could care less what you expect from him"
"…. He has a lot of attention.  He bites the rug to make holes in it and chews furniture if you are not paying attention to him while cooking or doing laundry.  He is exhausting!!!
"…(He has a crate which he hates he bites and chews that also)."
I felt really bad for this woman and her struggles with getting her pug potty trained.  However, this little Pug is still a puppy at 7 months old.  We all know Pugs can be stubborn and all four of mine have forgotten at some point that they are potty trained.  I wrote her back and tried to encourage her and gave her as many pointers as I could come up with.  I've asked her to send me a picture of the little fella and to keep me posted.
I'll let you all know how it goes!  Have a Happy Day!
Image credit: shock77 / 123RF Stock Photo
Image credit: ynmcreations / 123RF Stock Photo