Pugs and Scrap Food at Thanksgiving!
What you need to know about Pugs and Scrap Food at Thanksgiving.  Can we eat it or can we not?  A Pug's Perspective….
It's holiday time and it reminds me to remind all of you that us Pugs just love to eat! Throw portion control out the window! We don't need no stinkn' scales! We also know that our cute faces and big round sad eyes can convince our people to give us a little taste of something….anything…from their Thanksgiving Feast!  So what is it and what's important about pugs and scrap food at Thanksgiving?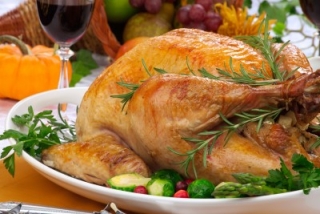 Keep the Cranberries for yourself! About 1/3 of pet food manufacturers currently use cranberries in their recipes, but the pet health benefits haven't yet been proven. Besides, how messy! You don't want that stuff on your white carpet!
Speaking of Stuff….how about that Stuffing? Almost all bread, salt and fat. Some people even add RAISINS. Bad for us pugs. Grapes and Raisins can be poisonous to us pooches. Don't give us any.
We like Sweet Potato but not with all that marshmallow, butter and brown sugar junk. Just give us a little piece of the sweet potato raw. Much better for us!
TURKEY! Talk about "gobble, gobble!" That's what we puggers would do with Turkey! IT IS GOOD FOR US! In fact, some homemade pet food diets include as much as 75% turkey. Please, please share a little turkey with us at Thanksgiving. Something nice and lean with NO BONES OR SKIN.  Remember though…don't give us too much. Just a little taste will do because turkey is high in fat and sodium and might cause digestive issues for us.
WE DO NOT WANT GREEN BEAN CASSEROLE! It has onions which are toxic to dogs! Keep it away from us.
PUMPKIN PIE anyone? You people will have to eat this yourselves. Please don't share it with us Pugs. Pumpkin Pie is delicious but has a very high fat content in the crust and all those spices in the filling plus the sugar and dairy is sure to give us a belly ache. But…small amounts of pumpkin straight out of the can (or the pumpkin itself) can actually help regulate our digestive systems…used sparingly!
HAPPY TURKEY DAY EVERYONE!!!!!
"©[Eugene Bochkarev]/123RF.COM"