Rabies Vaccine for Pugs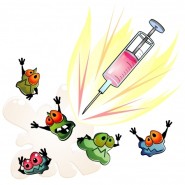 Has your pug ever reacted to the Rabies Vaccine?
I remember taking Poco to the vet for her annual shots.  She seemed absolutely fine and it wasn't the first time for her Rabies shot.  I was told to watch her for any reactions that normally can occur within the first hour or so.  Nothing happened.  All was well.
About 5 hours after the vaccines were given, I let all of my pugs out to potty.  Shortly after Poco came back in the house she was Frantically rubbing her face in the rug.  That's frantically with a capital F.  She seemed desperate somehow.  I yelled to get her attention and when she looked up at me my heart fell to my feet and I was floored by the image I was seeing.  This cute little pug was transforming before my very eyes.  Not only was her head about double in size, her eyes were puffed to the point she couldn't see.  Needless to say, I was scared.  The vet was closed for the day so it had to be a quick trip to Emergency.  Her breathing was labored and I feared her throat might be closing.
When my husband, Poco and I arrived the nurse took one look at Poco and hauled her into the back room.  They asked questions like "had she been outside and could she have been stung by a bee?"  Heck — I didn't know.  I suppose she could have been stung by a bee.  She had just been outside after all.  YES.  YES.  It must have been a bee.  They fixed her up and gave her Benadryl or something like it.  It worked.
Try as I like, I still can't get over the coincidence of the entire allergic reaction that Poco experienced that day.  I find it odd that she'd be stung by something on the very same day she had her shots.  But, she's had shots since then and that includes the Rabies Vaccine.  No reaction.
Image credit: mjak / 123RF Stock Photo