Support Pug Rescues
How Can You Help Support Pug Rescues?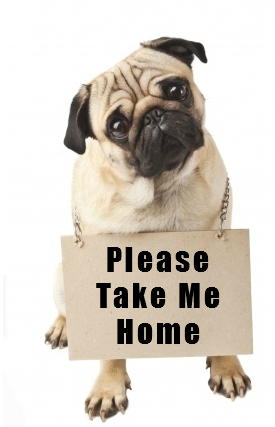 For starters GET INVOLVED.  There are Pug Rescue groups all across America, not to mention all parts of other countries around the World.  At PugFace we have a special section called Rescue and Adoption where you will find a list of Pug Rescues that you can contact.  The Pug Rescues are categorized by State.
One of the largest hurdles that rescues have, in my humble opinion, is that most are run strictly by volunteers who are busy with other things in life.  I know a woman who was trying to adopt a pug from a local rescue and she was becoming so frustrated that she gave up.  She filled out her application.  It was lost.  She filled out another.  Nobody could find it.  In the meantime, the pug she was interested in was probably going to be adopted out.  I felt very bad for her, she was put in a bad position.  But the real problem most likely stems from not having enough volunteers and foster homes for the number of pugs taken in.
When researching for this blog, I also found that some pug rescues only had answering machines and they typically said that someone would call back.  Some rescues I found were fortunate enough to have a real physical location with real people answering phones.
Getting involved doesn't mean that you "have to" be a foster, or that you "have to" be onsite.  Getting involved can be something as simple as a monetary donation of any size to any of the rescues.  These volunteers are all amazing people and give so much of themselves to your future rescue pug.
Thank you Pug Rescues!  If it weren't for you, Mr. Bubba and Ms. Phoebe wouldn't be part of my family.
Image credit: ulkan120 / 123RF Stock Photo